One of the best gifts a parent can give their child is information about handling money. Ready to take it up a notch? Give them the tools to run their own micro business. Check out the Micro Business for Teens series: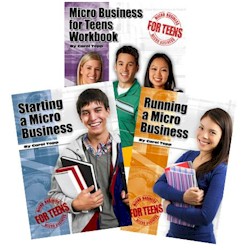 Carol Topp, author and CPA, packs her years of experience into a full curriculum that will equip your student with all the information they need. Packed full of real examples of successful teen businesses alongside doable, practical advice, each book is a resource your child will turn to time and time again.
From figuring out where to start, developing a marketing plan, record keeping, and time management, each book walks students step by step in simple, clear teachings. The ideal instruction manual for a young entrepreneur in the making.